Market Value Decline/Property Tax Relief
Market Value Decline/Property Tax Relief
In 1978, California voters passed Proposition 8, a constitutional amendment that allows a temporary reduction in assessed value when real property suffers a decline in value. A decline in value occurs when the current market value of real property is less than the current assessed (taxable) factored base year value as of the lien date, January 1.
Real property may decline in market value from one lien date to the next lien date; however, it will not benefit from a lower assessment unless its market value falls below the current factored base year value.  The decline in value is typically temporary and may be the result of changes in the real estate market, the neighborhood, or the property itself.
Please see the following example for more details. Check out the full version of the Fact Sheet here.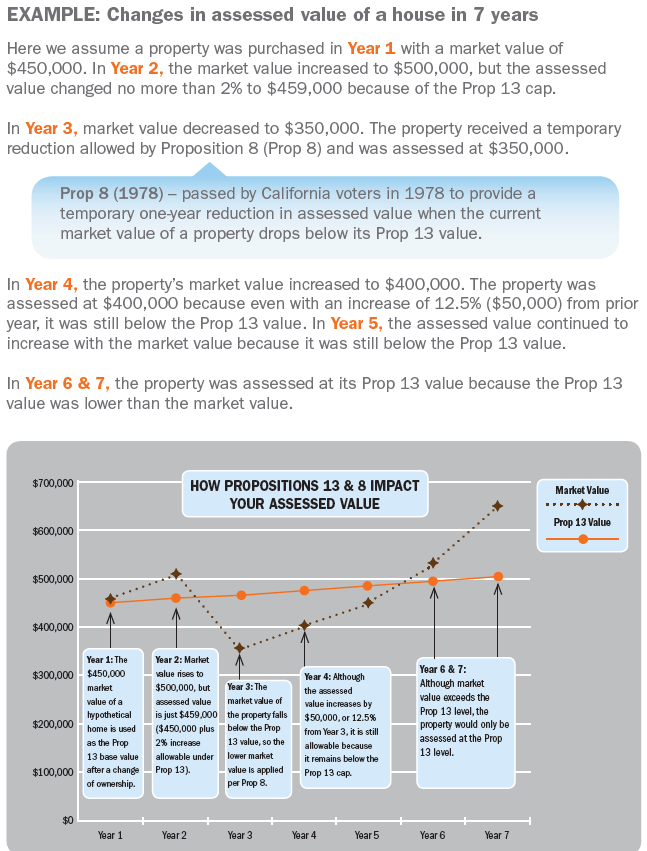 Request an Informal Assessment Review
(single family dwellings, residential condominiums, townhouses, live-work lofts and cooperative units only)
From January 2 to March 31 of each year, the Assessor will accept requests to review the market value of your property. You must submit your written request either online or in-person at our office, with supporting evidence of your opinion of value. If you were granted a temporary reduction for the preceding year, we will automatically review the assessed value for the next tax year.  A Notification of Assessed Value will be sent to you in July, which will indicate our findings. For more information, please read our Fact Sheet on Informal Review here. 
File an Assessment Appeal
(All property types)
If you disagree with the Assessor's findings, you may file an Assessment Appeal Application with the Assessment Appeals Board (AAB), an independent body established to hear and resolve valuation disputes between the Assessor's Office and property owners from July 2 through September 15 of each year. A non-refundable filing fee is due at the time of application and a hearing will be scheduled for you by the AAB at a later date. An Assessment Appeal Application and filing fee information may be obtained by contacting the Assessment Appeals Board – Clerk of the Board:
1 Dr. Carlton B. Goodlett Place
City Hall, Room 405
San Francisco, CA 94102
Phone: (415) 554-6778
For more information, please read our Fact Sheet on Assessment Appeal here.