Family Wealth Forum - September 30, 2017
Family Wealth Forum - September 30, 2017
Submitted by

Vivian.Po

on Fri, 07/28/2017 - 18:05
At the Assessor's Office, we understand your home can be your biggest asset in life, but laws around inheriting properties can be complicated. That's why our Office organized the City's first Family Wealth Forum on September 30, 2017 (Sat) to help homeowners start planning!
The 3-hour event attracted close to 400 attendees to learn about asset-building and estate planning for their families' futures. Attendees hailed from every district in San Francisco, coming to attend workshops and meet City agencies and nonprofit service providers. Over 100 attendees, 65% of whom were 50 yeras or older, received one-on-one counselling. For more information, please read our event report card below and check out our press release here.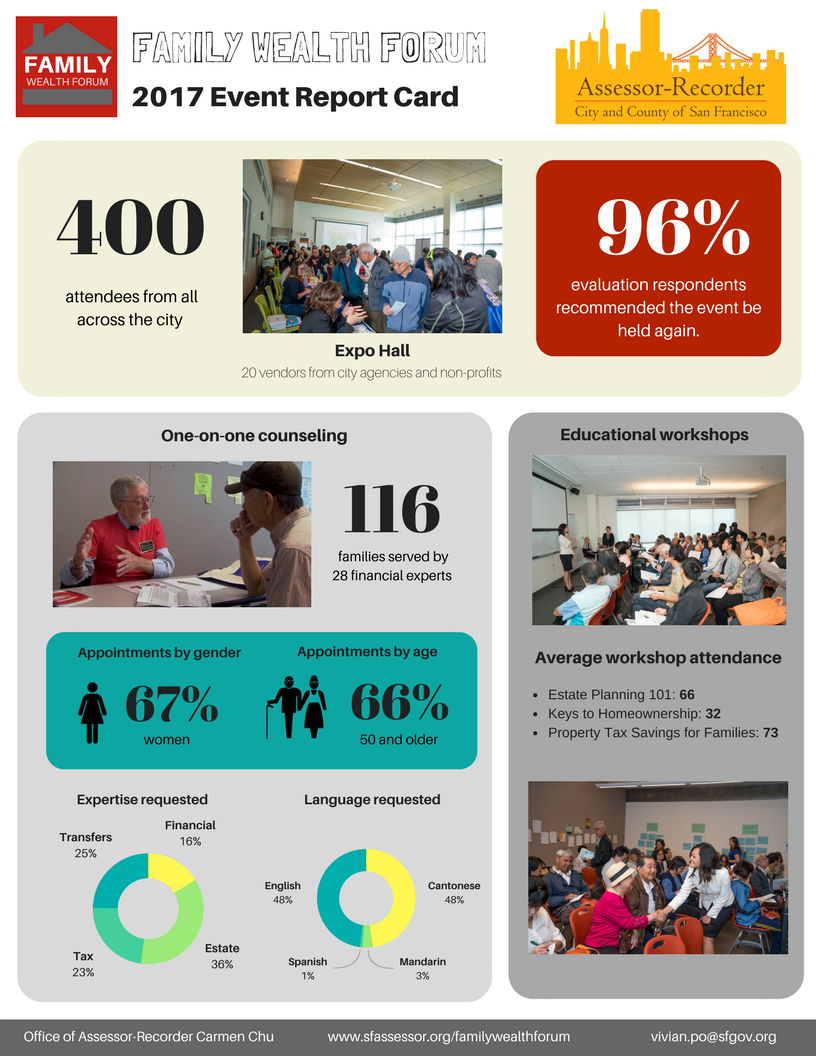 The unexpectedly high turnout and positive responses from attendees of the first Family Wealth Forum demonstrated that there is a need in the community to share information and resources on asset-building and estate planning for San Francisco 
Our Office will be organizing our next Family Wealth Forum in March 2018. Please check back in early 2018 for more information.  If you need any information regarding ownership transfers and property taxation, please check out our Community Fact Sheets.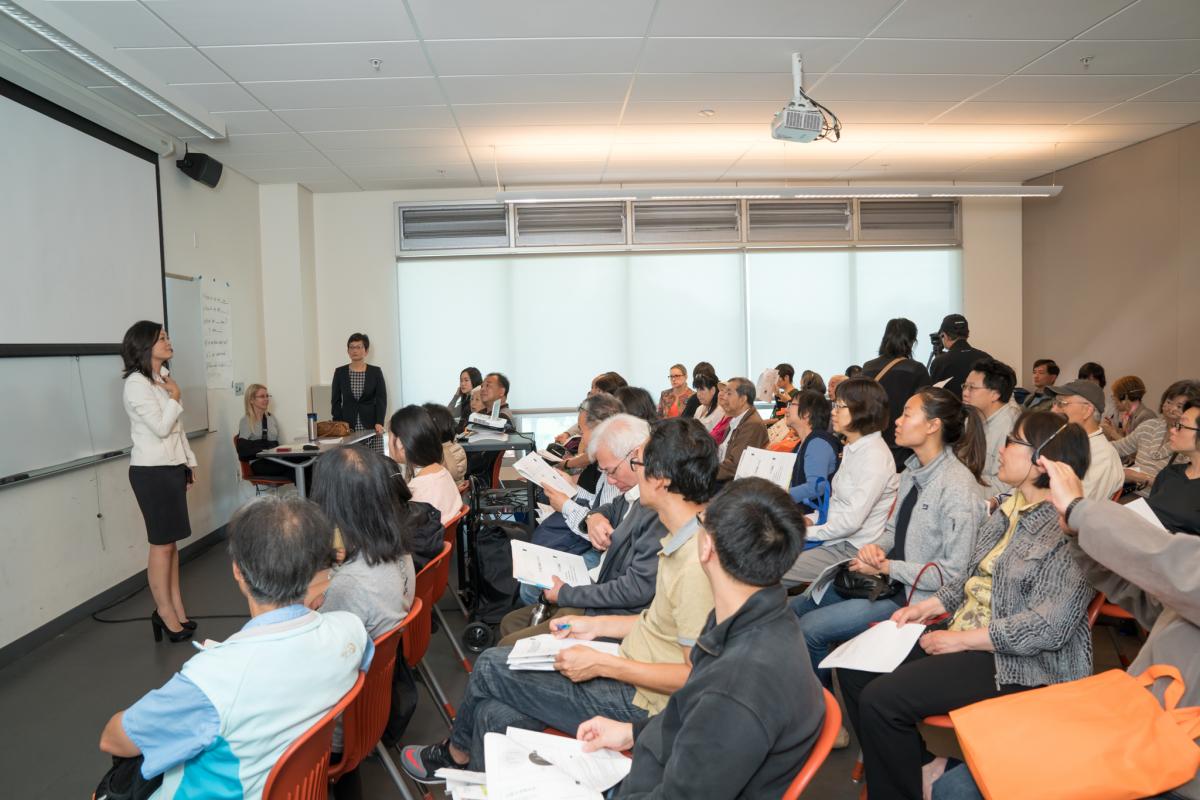 Video Presentations from the Workshops
The Family Wealth Forum offered a series of free, multi-lingual workshops. Please see below for more information you can find at each workshop.
 

10:15 am – 10:45 am

Estate Planning 101

 

Presenter: Aeyoung Kim

Housing and Economic Rights Advocates

Language: English

 

Yes, You can Buy a Home in San Francisco: Keys to Affordable SF Homeownership

 

Presenter: Jeanne Lu

Language: Cantonese

 

11:00 am – 11:30 am

 

Estate Planning 101

 

Presenter: Aeyoung Kim

Housing and Economic Rights Advocates

Language: Bilingual, English/Cantonese

 

 

Yes, You can Buy a Home in San Francisco: Keys to Affordable SF Homeownership

 

Presenter: Sonia Delgado-Schaumberg

Mayor's Office of Housing

Language: Spanish

 

11:45 am – 12:15 pm

 

 

 

 

Estate Planning 101

 

Presenter: Aeyoung Kim

Housing and Economic Rights Advocates

Language: Bilingual, English/Spanish

 

 

 

 

 

 

Property Tax Savings for Families

 

Presenter: Vivian Po

Office of Assessor-Recorder Carmen Chu

Language: Cantonese

 

 

12:30 pm – 1:00 pm

 

Property Tax Savings for Families

 

Presenter: Vivian Po

Office of Assessor-Recorder Carmen Chu

Language: English

 

 

 

Yes, You can Buy a Home in San Francisco: Keys to Affordable SF Homeownership

 

Presenter: Maria Benjamin

Mayor's Office of Housing

Language: English