Assessor-Recorder's Biography - Spanish
Assessor-Recorder's Biography - Spanish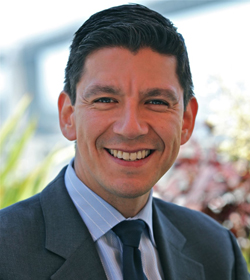 Joaquín Torres tomó juramento como Tasador-Registrador de San Francisco ante la alcaldesa London Breed el 8 de febrero de 2021. Antes de su nombramiento, Torres trabajó como Director de la Oficina de Desarrollo Económico y de la Fuerza Laboral de San Francisco desde 2018 y ha dirigido los esfuerzos en toda la ciudad para mitigar las dificultades económicas de las empresas y los trabajadores durante la pandemia del COVID-19.
A lo largo de los años, Torres aprovechó de forma colaborativa los recursos de todos los departamentos de la Ciudad para crear oportunidades para todos, ampliar el apoyo a las pequeñas empresas y los trabajadores, desarrollar la capacidad y la estabilidad de las organizaciones sin fines de lucro con sede local, y maximizar el impacto económico y social equitativo en beneficio de las comunidades, los residentes, los negocios y los vecindarios de San Francisco. Como Director de la Oficina de Desarrollo Económico y de la Fuerza Laboral, aportó liderazgo y coordinación en toda la ciudad para el desarrollo de la fuerza laboral, el desarrollo empresarial, el desarrollo económico de los vecindarios, el cine, las pequeñas empresas y la planificación del desarrollo.
Torres también preside la Comisión de la Autoridad de Viviendas de San Francisco, dirigiendo ese organismo de supervisión mientras la Autoridad y la Ciudad implementaban un proceso de replanteamiento para rehabilitar más de 3,400 unidades de vivienda pública con $750 millones en mejoras, lo que llevó a la transferencia de la propiedad a proveedores de viviendas económicamente accesibles para servir mejor a las comunidades de bajos ingresos.
Anteriormente, Torres ha trabajado como director de la iniciativa San Francisco Invest in Neighborhoods (Invertir en los Vecindarios), director de la Oficina del Alcalde de Servicios a los Vecindarios, y como intermediario con las comunidades indoamericana y latina de San Francisco y con los distritos de supervisión nueve y once (principalmente en los vecindarios de Mission y Excelsior).
Torres está comprometido con la justicia social y la equidad. Participó en el grupo inaugural del programa de la Alianza Gubernamental para la Equidad Racial de la Ciudad, el cual equipa a los líderes con el marco y las herramientas para transformar los sistemas y las instituciones que afectan a los grupos históricamente marginados. Actualmente, Torres preside el Comité de Equidad, Diversidad e Inclusión para el American Conservatory Theatre (A.C.T.) y es miembro del Consejo Consultivo de Equidad para la Asociación de Planificación e Investigación Urbana del Área de la Bahía de San Francisco (SPUR). Torres se graduó en la Universidad de Stanford y en la Tisch School of the Arts de la Universidad de Nueva York. Vive en Inner Sunset con su esposa, Ruibo Qian.